JULIE CUMMINS
Eco-Broker/Realtor
(919) 524-7476
(919) 545-2335 Fax
I love Chatham County, and don't just say that because I'm a Realtor. My Husband and I bought land here in the early 90's, after searching around the triangle for a place to call home. We instantly fell in love with the warmth and charm of Pittsboro, NC. There is a great mix of old and new here, and the people you will find are like no other. My introduction to Chatham Co. was a walk along the Haw River, with my realtor at the time, who showed up in hiking boots and carrying a compass. Need I say more? I knew this was not only the place for me, but possibly a new profession as well.
After moving out to our own little paradise I decided I wanted to learn the land and homes of our county myself. I chose to work for Chatham Homes, a local agency because I think it's important to keep our dollars local as much as possible and support the area I call home.
Chatham Homes Realty gives me the best of both worlds- more advertising than any other firm in Chatham, an incredible reputation of high ethics, and I get to work with other local agents who know this area inside and out. I work with custom builders, high to low end resale homes, land investors, Horse folks, and more. When marketing a home I specialize in accentuating energy efficient features of the home, and the uniqueness of each property. I enjoy selling both land and homes, and have a serious interest in helping clients to find ways to "walk more carefully" on our precious land. On a personal note My family includes my husband, our two children, two dogs, two horses, cows, chickens, guineas, goats and two solid barn cats for good measure. As a family we are trying to practice what we preach by teaching our kids that everything we do affects our planet for generations to come. If you are thinking of looking into our incredible County, I would love to be the agent to show you! I can't say enough how dear this area is to me.

EMAIL Julie:jjcummins@earthlink.net
Read my bio page on the Chatham Homes Realty site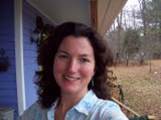 I am a licensed EcoBroker, REALTOR, and an active community member. I specialize in representing my clients in the purchase and sale of homes and land within the Triangle.I truly love this area and pride myself on my knowledge of current transactions, school districts, neighborhood information, and related services, including mortgage, insurance and inspection information.
I am a customer driven Realtor dedicated to achieving results and providing exceptional service. If you are in the market to buy or sell a home, I will put my real estate expertise to work for you!